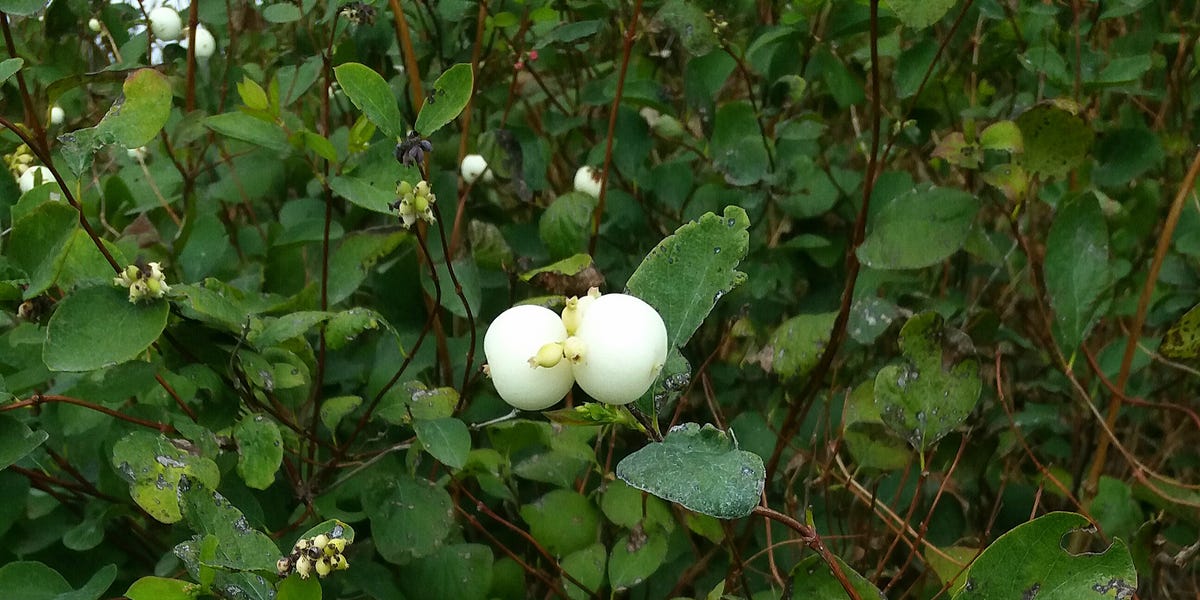 I recently took a trip to Jackson Hole, Wyoming, to hand-harvest the fruit of the ghostberry bush. Also known as snowberry, this shrub flowers in the later summer months and blooms in September and October. I was there with the locally based brand Alpyn Beauty, whose founder, Kendra Kolb Butler, sought out the berry after she heard about its healing properties. (It has been called "nature's Neosporin.")
She learned about the ghostberry from area botanists like Trevor Bloom of the Nature Conservancy in Wyoming. Bloom—who is also vice president of the Teton Botanical Garden, and co-founder and owner of Guides of Jackson Hole—explained to me that ghostberries have been important medicinally to the region's Indigenous people and settlers, because they contain saponins, the main chemical compound in soap, and therefore have been used for generations as: a microbial agent to clean hair; a natural antibiotic to treat burns; and an anti-irritant to calm itches, rashes, and eczema. Now, you can also find the super ingredient in Alpyn Beauty's latest moisturizer, Super Peptide & Ghostberry Barrier Repair Cream.
Writer Carly Cardellino picks ghostberries, the latest star skincare ingredient, found in Alpyn Beauty's new moisturizer.
Carly Cardellino
What is ghostberry or snowberry?
"Ghostberry—or snowberry, as it's also referred to—is a very important plant in the greater Yellowstone region," Bloom explained. "The berry is called ghostberry or snowberry because of its white color, which is super uncommon since most berries here are red." Ecologically, while the berries are inedible to humans (the saponins can make us sick to our stomachs), they're important because they provide food for bears and birds late into winter.
"Plants have always been the inspiration for new medicinal compounds or products," Bloom said. "There are a wealth of new medicines to be discovered from plants and traditional ecological knowledge, how Indigenous people have used plants in the past, and ethnobotany, the study of the human uses of plants."
For Butler, the impetus to use powerful plants in her skincare products came from her relocation out west. "Moving from New York to Jackson Hole, Wyoming, to run a retail beauty business, totally uprooted everything I knew from a career in clinical skincare," she told me. "Even the most potent clinical actives on their own were no match for the climate conditions that the skin deals with at a high altitude. The climate is so extreme here, and everybody's skin was paying the price." Ultimately, the products she was selling in her store just weren't cutting it.
"So, after observing how the local wild plants were able to adapt and flourish in the same difficult climate, I wondered if applying them topically, in combination with formulating them with clinical ingredients, would that move the needle," she said. "It turns out, the solution was literally in my backyard—wild plants with amazing survival instincts that have thrived for thousands of years in spite of Wyoming's harsh, dry weather. The second I added these wild plants to a base with clinical ingredients, I had people coming back in droves for the tiny samples I was giving out, and knew I had landed on the answer."
Cardellino in Wyoming on a trip with Alpyn Beauty founder Kendra Kolb Butler
Carly Cardellino
Is ghostberry good for skin?
After incorporating plants like ghostberry into the mix, the difference Butler saw in her formulations was clear. "We discovered that wild plants were able to boost the efficacy and performance of the clinical actives," she said. "The women in my community who were previously returning everything that they bought in my beauty stores were now stopping me on the street to tell me they finally found relief with my formulas. It felt incredibly validating that I was able to use what was around me to help others."
"Since ghostberry contains saponins with high antioxidant, anti-inflammatory, and antiseptic effects on the skin, it was a natural choice for barrier repair."
Butler's opinion is not just based on her own anecdotal evidence. I spoke with dermatologist Angela Lamb, associate professor of dermatology at Mount Sinai in New York City. "I believe in the use of plants 100 percent—a lot of products that we use for acne contain the extracts in plants and can be so helpful," Lamb said. "Plants have intrinsic properties—like moisturizing, antimicrobial, antibacterial, and anti-inflammatory [effects]—that can help skin improve certain conditions, like eczema, for example. [With eczema, a] protein defect in the skin's surface … doesn't allow water to be trapped. Instead, the moisture evaporates across the surface, and that is what causes the itchiness and scratching, followed by the cycle of overactivity of inflammation—which then creates dry skin, and then that flares eczema. Coincidentally, having a high bacterial content on your skin can flare eczema, so if you're using a product that contains a plant with antimicrobial properties, like ghostberry, it can help minimize that."
This speaks to why Butler was excited to use ghostberry in her latest launch. "We always combine a wild plant with a clinical active to achieve the best results possible," she told me. "So, I knew I wanted this to be a barrier repair cream from the very start. I wrote the formula with the goal of obtaining the seal of acceptance from the National Eczema Association. Since ghostberry contains saponins with high antioxidant, anti-inflammatory, and antiseptic effects on the skin, it was a natural choice for barrier repair."
The one thing to be aware of with plant-infused products, Lamb noted, "are known allergies to certain types of plants. But in general, I'm a huge fan of plant-based materials in beauty, and most people's skin can tolerate them really well."
Ghostberry skincare products
Alpyn Beauty Super Peptide & Ghostberry Moisturizer for Barrier and Wrinkle Repair
Alpyn Beauty Super Peptide & Ghostberry Moisturizer for Barrier and Wrinkle Repair
The new Alpyn Beauty barrier repair cream did indeed end up earning the National Eczema Association's seal—a huge feat, since it involves rigorous testing to ensure the formula can provide relief for the 31 million Americans who suffer from the skin issue. It is also the only formula Stateside to include ghostberry. (The only other skincare line using the plant appears to be a New Zealand brand called Snowberry, which Procter & Gamble purchased in 2018.)
Fortunately, the new cream is widely available at Sephora. And ghostberry is a skin-healing ingredient to watch.